Global Travel Management is supporting the industry-wide campaign, Travel Day of Action on 23 June.
The event takes place following the Government's review of the traffic light system – in which countries were moved from green to amber and amber to red, while none was moved in the opposite direction – and its failure to extend sector-specific support for the travel and aviation industries.
The day of action will be calling on the UK Government to
Allow international travel to return safely and in a risk managed way by properly implementing the Global Travel Taskforce's plan; and to
Bring forward a package of tailored financial support to recognise that the unlocking of international travel, and hence businesses' ability to trade and generate income, will be much slower than first anticipated, and more gradual than for businesses in the domestic economy.
All parts of the travel industry have been invited to participate, including travel management companies, leisure travel agents, airlines, airports, tour operators, suppliers and partners.
The day will be all about putting forward a positive plan for the Government. Scott Pawley, Managing Director of Global Travel Management explained that:

London, the world's number one most connected city in 2019, saw an 88% decline in connectivity between April 2019 and April 2021. UK residents travelling overseas generate over £53 billion in domestic spending – but with borders being closed and travel to many countries being made illegal for most individuals, hundreds of thousands of jobs have been lost, and many more remain at great risk.

The next weeks will be critical for the travel industry, as we look ahead to the next review on 28 June when the Government is expected to announce another review of both the traffic light list and also the requirements and measures in place for international travel. The Travel Day of Action is a campaign we are happy to support, as it carries two, important messages.

We want the Government to help the industry and businesses who need to travel by taking the two actions we are calling for. Allowing a risk-managed approach to opening up international travel; and providing travel industry support to help businesses cope with the on-going restrictions, now entering their sixteenth month.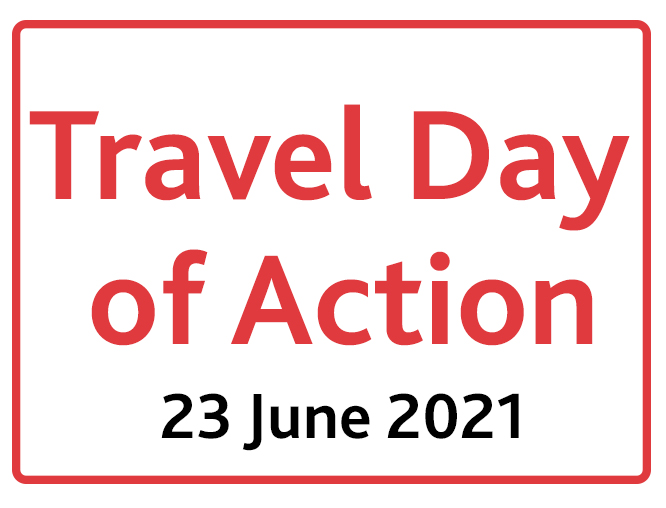 Scott has invited the MP for GTM's Woking constituency, Jonathan Lord to the event, which takes place on College Green, outside the Palace of Westminster. Scott explained:
I have written to Jonathan Lord to put forward the campaign's two, positive suggestions. I hope he will be able to join us on College Green immediately after Prime Minister's Question Time, so that he can see the strength of the support behind the campaign. It's a positive message and I hope we can get the message across.

Other countries are forging ahead with risk-based schemes that allow safe travel, most recently Germany, France and Spain. The UK is falling behind other nations in its travel restart plans and risks becoming an outlier, undermining our aspirations for Global Britain.
Scott also explained that, while some businesses in the travel industry have suffered greatly over the course of the pandemic response, it is important that the financially-stronger companies stand up. Scott said,
We have already seen airlines and travel agents succumb to the ravages of the pandemic response. So it's important that financially sound travel management companies like us get behind this campaign. The travel industry needs competition – it's vital we don't lose any more names from the travel sector.
The campaign will attract travel industry members from across the UK, with events taking place around the country. And Sales Director Paul Baker pointed out that GTM clients will continue to receive the highest levels of service they expect during the day:
It's a socially distanced, responsible campaign event, with attendance restricted to the hundreds of ticket holders who have pre-registered. We have several members of the GTM management team taking part in the event, including Kelly Packington, our Director of Operations. So, I have worked with Kelly to ensure all operational aspects of her – and her team's – role will be covered.

All GTM clients travelling on 23 June will be fully supported, as usual.



https://gtm.uk.com/wp-content/uploads/2021/06/Web-images-11.png
312
820
Dave
https://gtm.uk.com/wp-content/uploads/2022/06/Smarter-Better-Fairer-GTM-logo_02.png
Dave
2021-06-16 20:11:29
2021-06-22 14:24:51
GTM supports the Travel Day of Action