Following media reports of an outbreak of a new virus, we have compiled a number of resources that provide the latest advice for business travellers.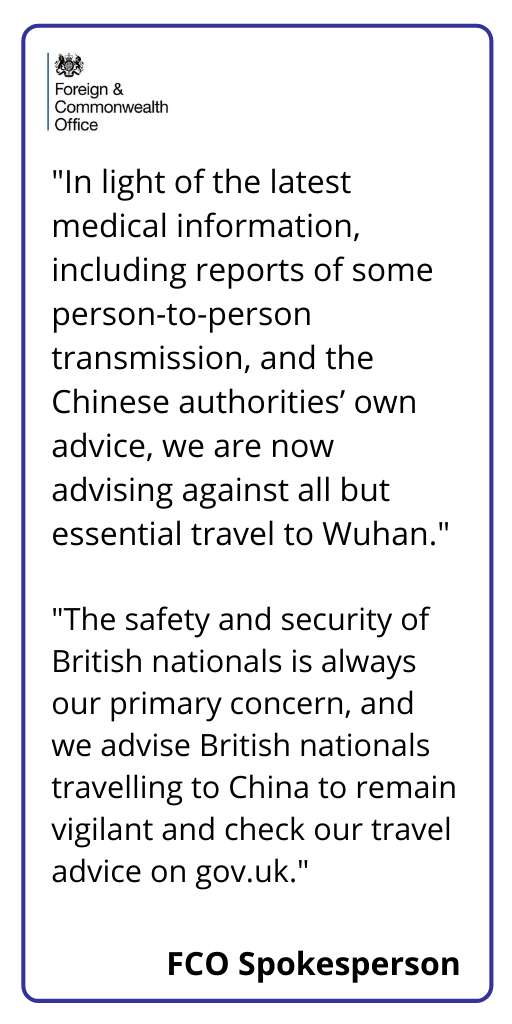 About Wuhan novel coronavirus

Coronaviruses are a large family of viruses with some causing less-severe disease, such as the common cold, and others causing more severe disease such as Middle East respiratory syndrome (MERS) and Severe Acute Respiratory Syndrome (SARS) coronaviruses.
The source of the Wuhan novel coronavirus (WN-CoV) outbreak has yet to be determined. Preliminary investigations identified environmental samples positive for WN-CoV in Huanan Seafood Wholesale Market in Wuhan City.
Although evidence is still emerging, information to date indicates human-to-human transmission is occurring. 
Further information: https://www.gov.uk/government/publications/wuhan-novel-coronavirus-background-information/wuhan-novel-coronavirus-epidemiology-virology-and-clinical-features (Public Health England website).
Travel advice
On 22 January 2020, the Foreign & Commonwealth Office issued advice against all but essential travel to Wuhan city, Hubei Province.
The FCO advice on travel to China can be found here: https://www.gov.uk/foreign-travel-advice/china.
Coronavirus outbreak updates
Travel Health Pro continues to monitor coronavirus from its initial reports on 31 December 2019 and continues to do so as the virus evolves.
The latest information from Travel Health Pro is available here: https://travelhealthpro.org.uk/updates.php?base=2896.
Enhanced monitoring
Enhanced monitoring has been put in place from all direct flights from Wuhan to the UK. The enhanced monitoring package includes a number of measures that will help to provide advice to travellers if they feel unwell.
For further information and the latest advice on travel to China, see the Public Health England page, here: https://www.gov.uk/government/news/wuhan-novel-coronavirus-and-avian-flu-advice-for-travel-to-china.
Dr Nick Phin, Deputy Director, National Infection Service, Public Health England, said:
This is a new and rapidly evolving situation where information on cases and the virus is being gathered and assessed daily.  Based on the available evidence, the current risk to the UK is considered low. We are working with the WHO and other international partners, have issued advice to the NHS and are keeping the situation under constant review.

The risk to visitors to Wuhan is moderate reflecting an increase in the number of cases being identified in China and evidence that the virus has limited spread from person to person. If you are travelling to the area, you should maintain good hand, respiratory and personal hygiene and should avoid visiting animal and bird markets or people who are ill with respiratory symptoms. Individuals should seek medical attention if they develop respiratory symptoms within 14 days of visiting Wuhan, either in China or on their return to the UK. They should phone ahead before attending any health services and mention their recent travel to the city.
A Foreign & Commonwealth Office spokesperson said:
In light of the latest medical information, including reports of some person-to-person transmission, and the Chinese authorities' own advice, we are now advising against all but essential travel to Wuhan.

The safety and security of British nationals is always our primary concern, and we advise British nationals travelling to China to remain vigilant and check our travel advice on gov.uk.
https://gtm.uk.com/wp-content/uploads/2020/01/Coronoavirus.png
312
820
Natalie
https://gtm.uk.com/wp-content/uploads/2015/05/logo_trans.png
Natalie
2020-01-23 11:38:18
2020-01-23 11:38:21
Coronavirus - a guide to the latest travel and medical advice