London Gatwick Airport, the capital's second major international hub, is gearing up for an exciting period of transformation that promises to enhance the experience of business travellers.
The airport has unveiled its plans for the relaunch and redesign of the North Terminal, alongside a proposal to bring the Northern Runway into routine use.
These initiatives, backed by substantial investments, aim to create a more appealing and efficient space for passengers while generating significant employment opportunities for local construction workers.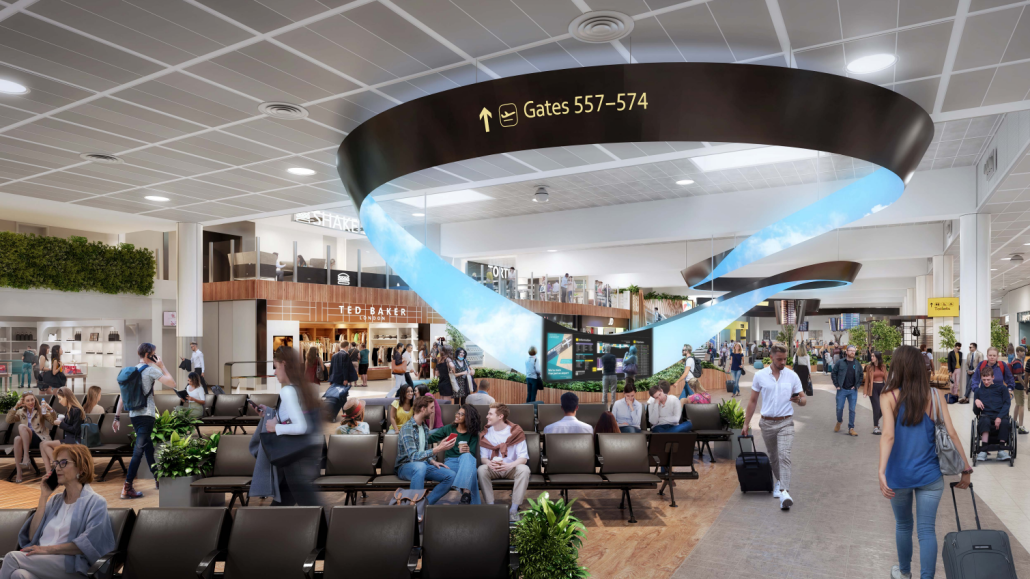 The North Terminal, scheduled for completion in early 2024, will undergo its most significant overhaul since its opening in 1988.
With over £10 million dedicated to improvements, Gatwick is committed to providing a personalised and relaxing environment that aligns with its refreshed branding and vision.
Passengers can look forward to a departure lounge featuring new flooring, contemporary seating and differentiated 'mood zones' equipped with accessible power points. The addition of local artwork and a sustainable planting scheme will showcase the airport's connection to the beautiful West Sussex countryside.
Furthermore, improved sightlines, wayfinding systems, and a unique digital artwork zone will ensure an effortless exploration of the terminal's offerings.
Simultaneously, Gatwick's Northern Runway expansion project presents a remarkable opportunity for local construction workers.
If approved, approximately 630 new jobs will be created across areas including West Sussex, East Sussex, Surrey, Kent, Brighton and Hove, and the London Borough of Croydon. The airport plans to source the majority of the workforce from neighboring local authority areas such as Reigate and Banstead, Crawley and Mid Sussex.
This job creation initiative will invigorate the regional economy and provide employment opportunities for professionals, engineers, operators, ground workers, and specialists in various fields. From taxiway alterations to terminal building work, car parks and highway projects, the project will offer diverse roles that contribute to the airport's long-term vision.
Cedric Laurier, Chief Technical Officer of London Gatwick, expressed his enthusiasm for the opportunities the Northern Runway project presents, highlighting the excitement it brings to the region. He said,
The opportunities presented for local employment through Gatwick's Northern Runway project are incredibly exciting for the region. 

To offer up to 1400 new jobs in construction alone – with a significant proportion of these estimated to be using the local workforce – is great news. These new jobs will not only benefit workers now, but also our future workforce who are still in school or college."
Gatwick's comprehensive vision encompasses both the enhancement of passenger experience through the North Terminal redesign and the positive economic impact resulting from the Northern Runway expansion.
By improving resilience, reducing delays, and supporting trade, tourism and job creation, the airport aims to solidify its position as a leading international hub, serving the needs of UK-based business travellers and beyond.
With exciting additions like new retailers and restaurants, including The Breakfast Club, BrewDog, and curi.o.city, London Gatwick is set to offer a vibrant and dynamic travel experience.
As the ambitious projects take shape, Gatwick invites business travellers to look forward to a future where the airport serves as a gateway to exceptional travel experiences, reflecting the airport's commitment to providing a unique sense of place while celebrating the region's rich offerings.

https://gtm.uk.com/wp-content/uploads/2023/06/WEB-Austrian-3.png
312
820
Dave
https://gtm.uk.com/wp-content/uploads/2022/06/Smarter-Better-Fairer-GTM-logo_02.png
Dave
2023-06-27 14:50:44
2023-06-27 14:50:48
Gatwick unveils £10 million transformation of North Terminal for enhanced passenger experience