Airbus has signed agreements with two airline customers, and three Air Navigation Service Providers to demonstrate the operational feasibility of Airbus' demonstrator project, fello'fly, for reducing aviation emissions.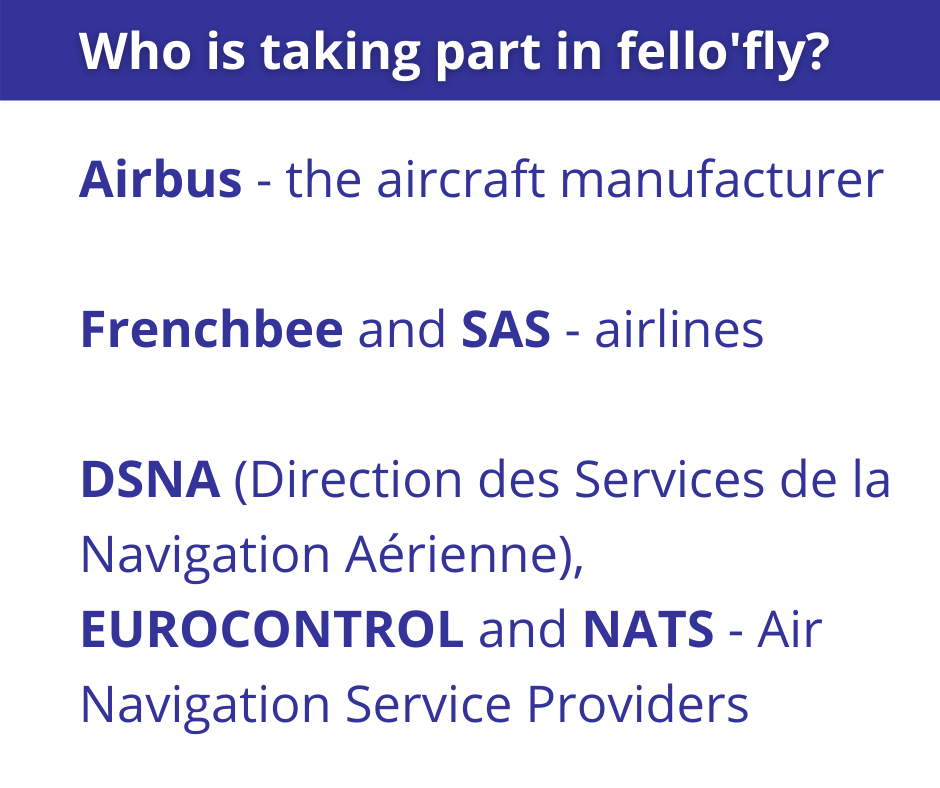 The airlines Frenchbee and SAS Scandinavian Airlines have joined Airbus, the UK's NATS, DSNA of France and EURCONTROL to participate in the project.
Inspired by biomimicry, fello'fly is based on Wake Energy Retrieval (WER) to reduce aviation emissions. WER replicates the behaviour of birds, which fly together to reduce their energy consumption. The technique of a follower aircraft retrieving energy lost by a leader, by flying in the smooth updraft of air the wake creates, reduces fuel consumption in the range of 5-10% per trip.
Nick Macdonald, fello'fly Demonstrator Leader said:

In the aviation industry, achieving our emission-reduction targets will require implementing innovative new ways to use aircraft in the skies. Our collaboration with our airline partners and ANSPs on fello'fly shows that we're making good efforts towards these goals.

Frenchbee and SAS will provide airline expertise in flight planning and operations for the collaborative requirements necessary for bringing together aircraft before and during a fello'fly operation. DSNA, NATS and EUROCONTROL will contribute air navigation expertise defining how two aircraft can be brought safely together, minimising impact on today's procedures. In parallel Airbus will continue working on the technical solution to assist pilots in ensuring that aircraft remain safely positioned.
Airbus explained how the system will work:
In today's operations, aircraft are directed by ATC to enter transatlantic routes at a specific time and altitude via a designated oceanic clearance point. Pilots then use a flight management function to direct the aircraft to arrive at the designated point at the specified time and altitude.

In the case of two fello'fly aircraft, ATC will direct them to arrive at the same clearance point but on two different flight levels separated by 1,000 feet. Under the rules of today's airspace and procedures, this is the closest aircraft can fly together.


Once both fello'fly aircraft have reached the clearance point, they will collaborate to manoeuvre into the rendez-vous position, which is when the follower aircraft is 1.5 nautical miles behind the leader aircraft and separated by 1,000 feet.

From here, pilots will use flight assistance functions to move the aircraft safely to a position in the updraft where it is saving fuel through wake-energy retrieval.

When both aircraft need to separate to head to their destinations, one aircraft will reposition itself into the spare flight level and inform ATC, which will again start identifying them as individual aircraft within the ATC system.




Given the high potential to make a significant impact on emissions reduction for the aviation industry as a whole, directly contributing to the sector's sustainable growth goals, Airbus is targeting a controlled Entry-Into-Service (EIS), which is expected by the middle of this decade.
fello'fly is part of Airbus UpNext, an Airbus subsidiary created to give future technologies a development fast track by building demonstrators at speed and scale.

https://gtm.uk.com/wp-content/uploads/2020/09/fello'fly.png
312
820
Dave
https://gtm.uk.com/wp-content/uploads/2022/06/Smarter-Better-Fairer-GTM-logo_02.png
Dave
2020-09-11 13:44:54
2020-09-11 13:48:31
Aviation industry collaborates on emission-reduction project, fello'fly