This week, Global Travel Management took a close look at the work currently being undertaken by United Airlines, to combat the pandemic and to ensure all passengers and staff are kept as safe as possible from infection.
Sales Director Paul Baker and Kelly Packington, Director of Operations, spent a day with the United team at London Heathrow and found out what the airline does to ensure Covid safety at every stage of a trip.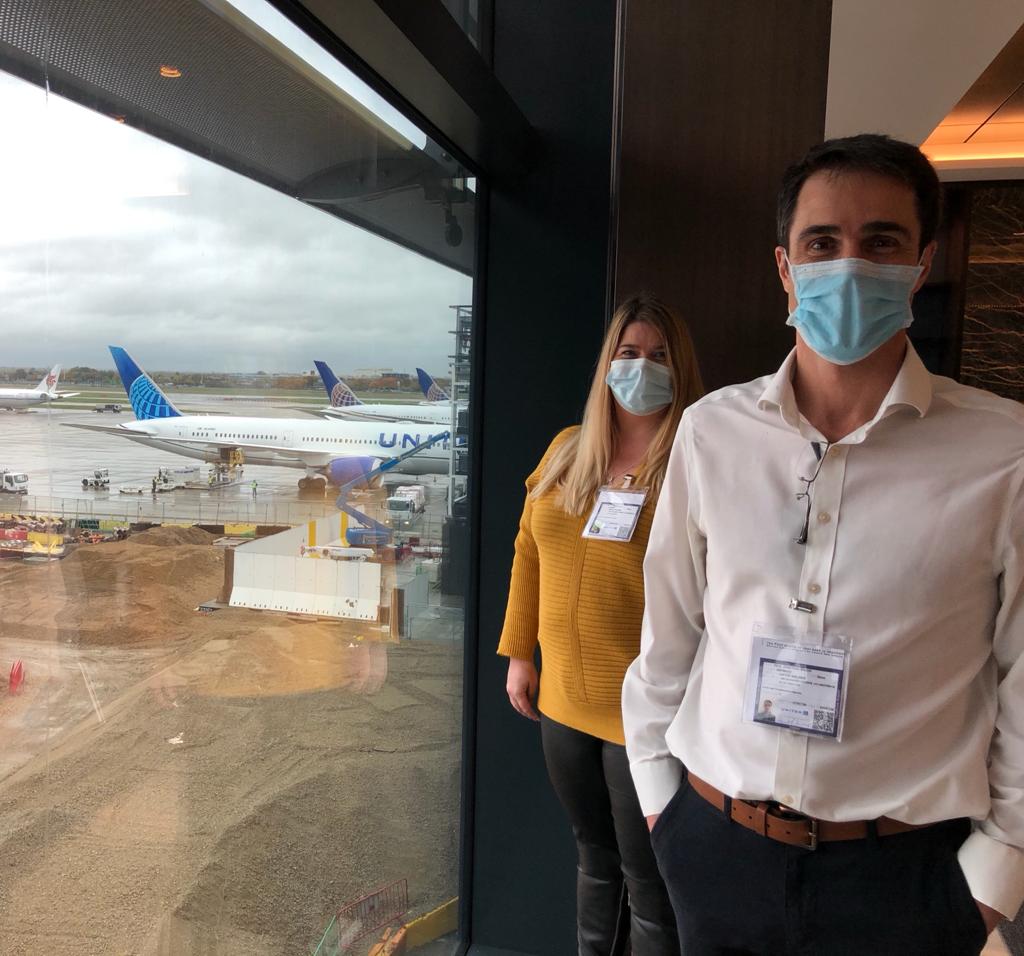 Terminal 2 at Heathrow has been, and continues to be, extensively cleaned. For example, touch points are cleaned and disinfected and tests are undertaken on a weekly basis to ensure the disinfectant maintains its effectiveness.
Before flying, United email passengers to remind them of the requirement to wear a face mask at the airport and onboard.
United require passengers to complete a "Ready to fly" checklist at check-in. This is done via an app on the passenger's phone, so can be completed without being face-to-face with check-in staff.
United staff have temperature checks before starting work. And, social distancing is facilitated by floor decals and screens at check-in.
United passengers can check-in online or on their mobile app which generates a QR code. The code is then used to complete the check-in process in the terminal at a self-service check-in machine.
The check-in machine prints out a baggage tag (which the passenger attaches to their own bags). In this way, passengers require no human physical contact is required when checking-in, even when the passenger checks bags.
Security through the airport remains broadly the same as in pre-pandemic times. So, for example, passengers are still required to remove shoes and belts. But the entire area is thoroughly and completely disinfected and cleaned, to reduce further the chances of coming into contact with the virus.
Although Paul and Kelly didn't experience the "normal" gate procedure, some more changes could be seen at the gate, including:
Disinfecting high-touch areas such as charging stations, counters and seats
Hand sanitizer stations
Passengers self-scan boarding passes
Fewer passengers are boarded at a time, allowing continued social distance up to the aircraft door
Boarding from the back of the plane, so passengers don't have to pass already seated passengers
Onboard the plane – in this case, a Boeing 787-8, the "Dreamliner" – it's clear the aircraft is cleaned, immaculately, throughout.
Paul Baker's reaction to the experience is straightforward:
The Dreamliner is super, super clean; aircraft have never been so clean.
The cleanliness of the aircraft now takes precedence over everything else, for example the loading of catering and new blankets and amenity kits. All cabins and the toilets are afforded the same levels of cleaning disinfectant killing 99.97% of all germs.
Passengers are provided with hand sanitizer wipes. Masks are mandatory for passengers and cabin crew. Pillows and blankets are provided "on request". And, on arrival, the aircraft is "de-planed" in groups of five rows at a time, to prevent unnecessary crowding.
If you have any questions about flying on United, or through Heathrow, please let your GTM Account Manager know.
https://gtm.uk.com/wp-content/uploads/2020/10/What-to-expect-when-you-fly-on-United-from-Heathrow.png
312
820
Dave
https://gtm.uk.com/wp-content/uploads/2022/06/Smarter-Better-Fairer-GTM-logo_02.png
Dave
2020-10-29 13:54:08
2020-10-29 13:54:12
United demonstrates its commitment to cleanliness