The Summer of 2022 has, so far, been conspicuous by the number of media reports about airport delays and chaos. But, how much disruption is there, and what's the best way for business travellers to ensure their flights run as smoothly as possible? We sent our Sales Director Paul Baker to find out.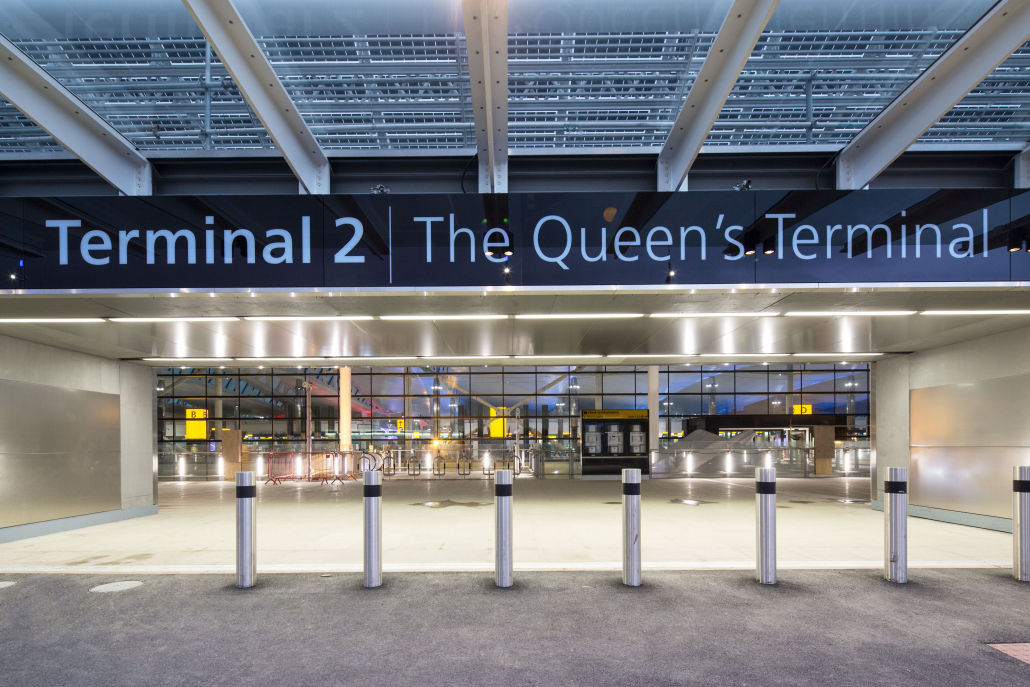 Paul spent a busy weekday at Heathrow, thanks to an exclusive invitation from United Airlines, who fly from Terminal 2, the Queen's Terminal. 
Paul explained:
We arrived at Heathrow mid-morning on Thursday, 16 June. I was expecting to see far bigger queues, even though I know a lot of people who have travelled through London's airports this month without any hold-up at all.
The journey to Heathrow is going to be different depending on time of day and day of week. And, with the train strike disruptions causing an added layer of issues, care should be taken when planning the journey to the airport.
However, with the Elizabeth Line finally up and running and providing additional options, Heathrow is gradually getting easier to reach.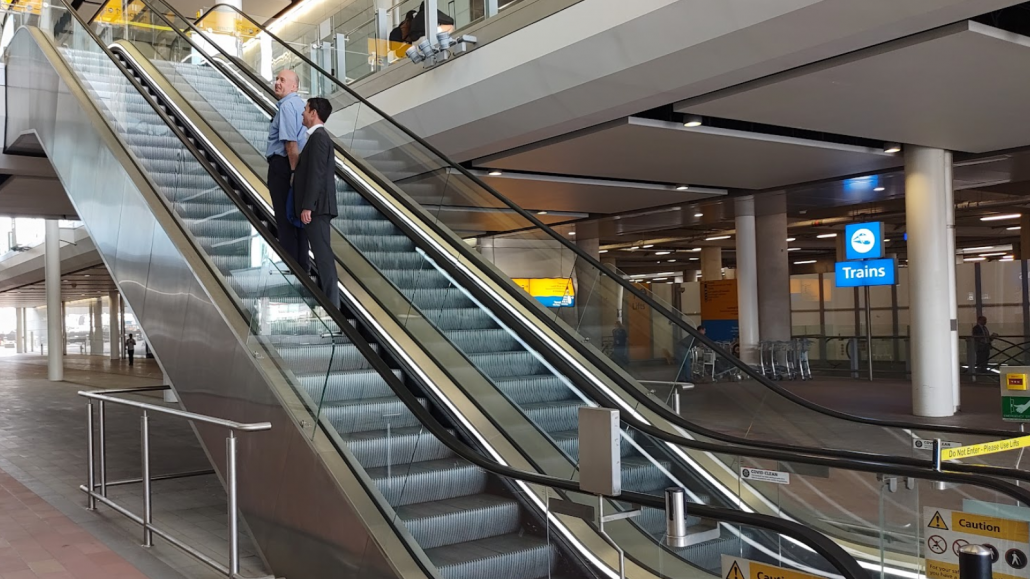 The first thing that Paul noticed was the amount of queueing at check-in.
The check-in desks were busy, but the queues were moving fairly quickly.

But, it was noticeable that many passengers hadn't made use of online check in.

I would always recommend using Tripscape or the airline's own app.
United's app and online tool, the "Travel Ready Center", offer passengers a number of useful ways in which to ensure they're ready to start their journey.
For example, passengers can check in online, upload their Covid vaccination status and Advanced Passenger Information, which is required for travel to a number of countries.

From check in, the next stage is security clearance.
The security process was running smoothly when I was there, however, I think this is one area in which business travellers can benefit from smart planning.

By booking a Fast Track security access pass, you arrive at the airport knowing you will not face a big queue to get through security. Even saving a few minutes' queueing can reduce the stress of business travel.
Security is often a pinch point for airports. So Fast Track access is often an efficient investment for business travellers pressed for time.
But Paul noticed one unusually large queue, beyond the security area:
Curiously, the slowest-moving queue in the area of security was a single line of passengers waiting to refill water bottles.
Once airside, Paul was able to see how busy the terminal was.

The departure area was busy, but, unlike many media reports, there was certainly no over-crowding. There was more than enough seating available for all passengers and the shops were busy, but uncrowded.

Is this "chaos"? It didn't look like it to me.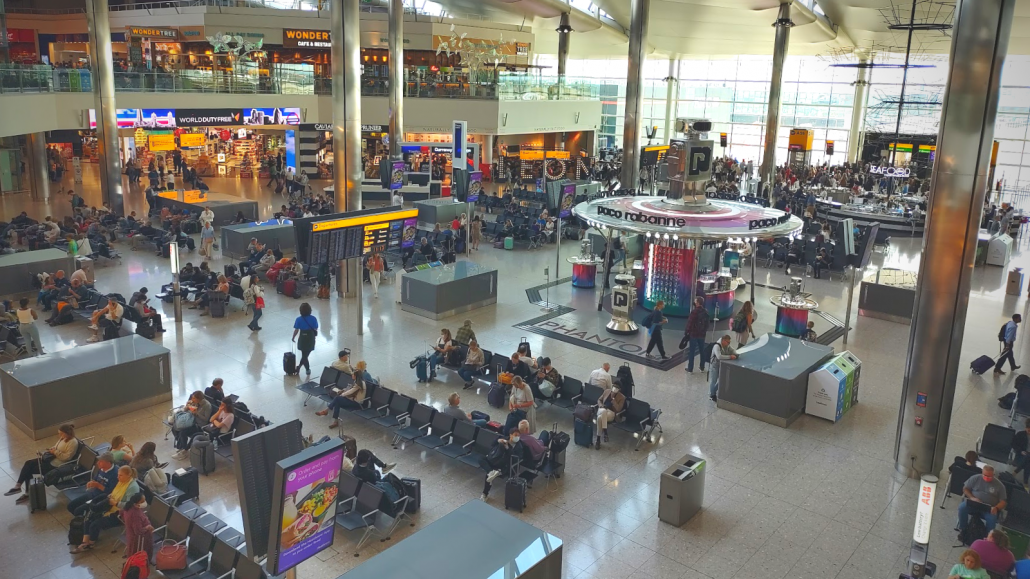 After security, many business travellers seek refuge from the busy public areas of the airport and spend time in airline lounges.

Lounges provide a sanctuary where a business traveller can work, relax, take refreshment and prepare, ahead of their flight. Some lounges offer exceptional and luxurious facilities.

For example, United's lounges have showers that passengers can make use of. But it gets better. Once you have disrobed, you can press a button in your shower room, your clothes are then collected by an attendant, pressed and returned, via a two-way closet.

What better way to prepare for – or recover from – a flight, than a shower and freshly-pressed clothing?

Lounges typically display all the information on flight departures. So passengers can stay in the comfort of the lounge until their gate is shown, at which time they can go straight to the gate.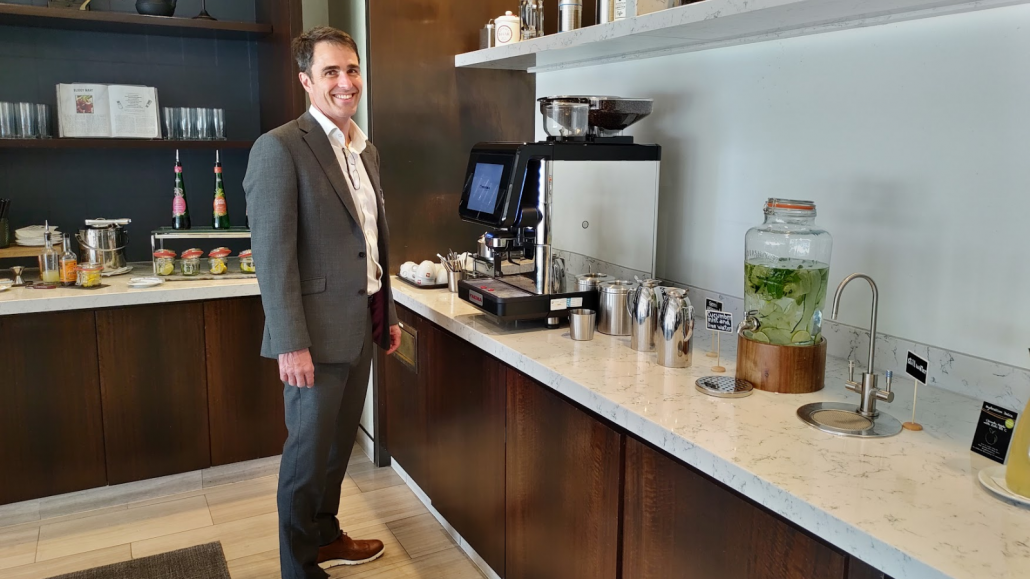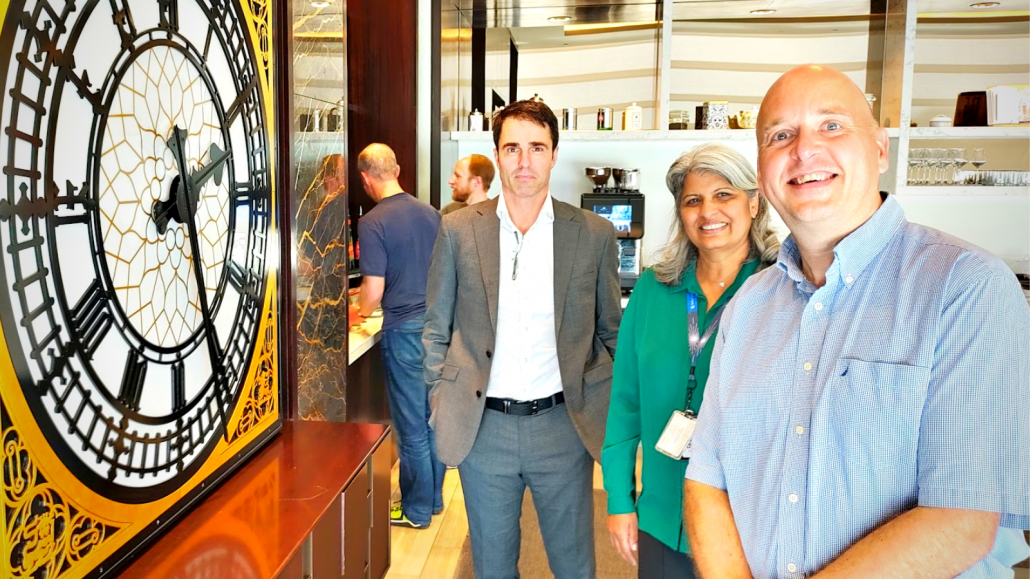 The Gate areas were no more busy than usual, with neat rows of passengers waiting for final preparation of aircraft to be completed and efficient airline staff managing the boarding process easily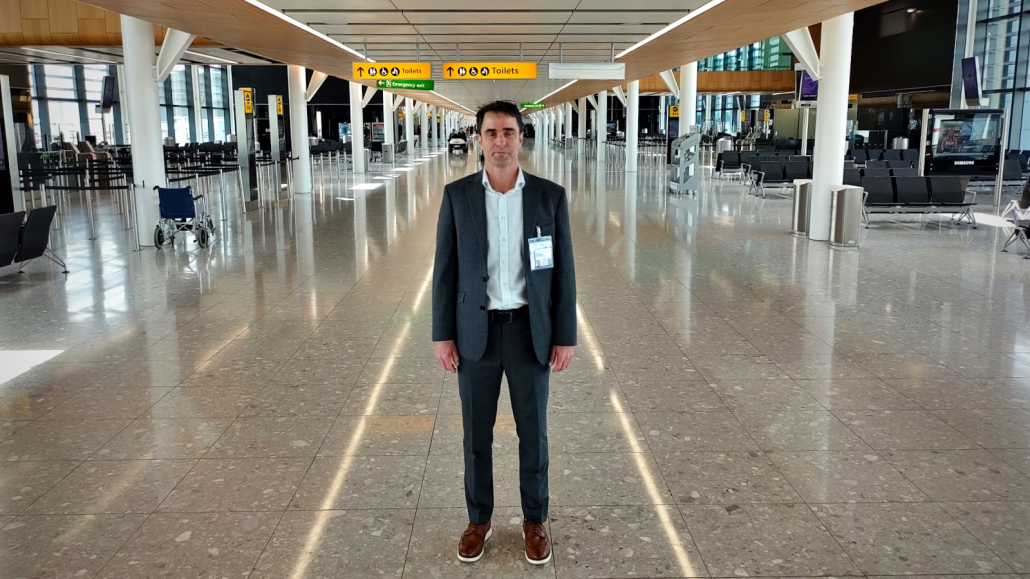 With boarding complete, passengers can kick back and relax onboard. But some business travellers like to use the time spent in the air as productively as possible. So, as WiFi becomes more widely available on flights, passengers have more opportunity to complete work tasks on laptops and tablets.
It's great to be able to work during a flight. So onboard WiFi is a big plus. But sometimes, you just want to ping someone a quick message.

This is where United has another great advantage: messaging via WhatsApp, iMessage and Facebook Messenger is free on United's flights.

So, whether you want to check in with the office, message suppliers, or just keep in touch with friends and family, I would advise making use of this great, additional benefit.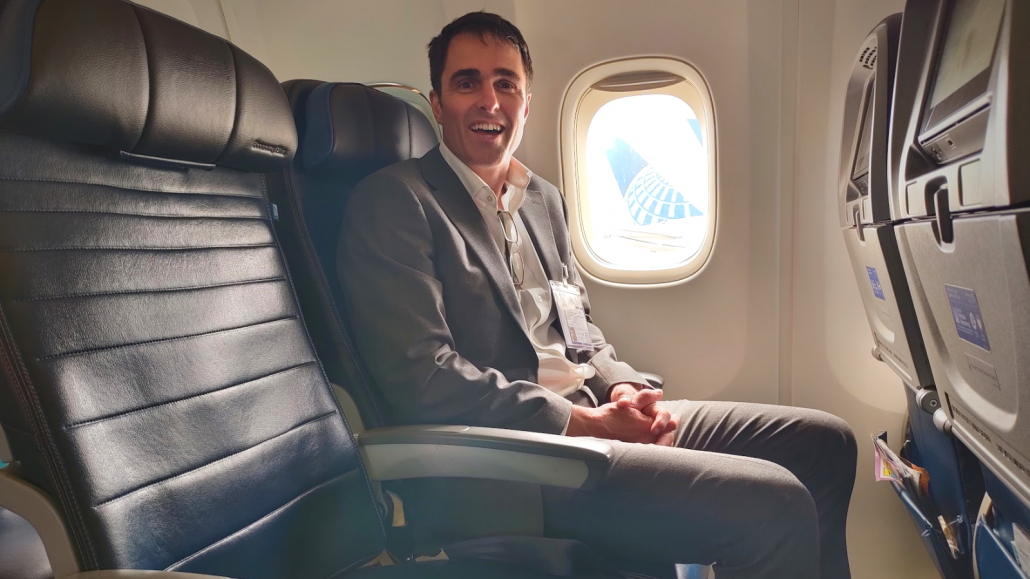 We asked Paul what his tips are for a smooth journey through the airport, especially when the news is full of reports about delays and overcrowding
First, take notice of when the airline tells you to check-in and arrive in good time. But make sure you have checked-in online before you arrive at the airport.

It's crucial that you give GTM your full, up-to-date contact details before you travel, so we can let you know if there are issues that crop up during your trip and advise you on the best alternative plans.

Take a water bottle to the airport. You can't take liquids through security, but you can fill up a bottle once you're through. On hot days, it's good to have water with you, in case you do face delays.

Think carefully about the advantages of not checking baggage. If you can complete your trip with just onboard bags, it often speeds you through arrivals ahead of others waiting for bags.

Always use Homing Pin for bags and valuables – in case any get lost at the airport or anywhere else on your trip.

And make use of WiFi onboard – keeping in touch with the ground and knowing ahead of time if there are issues often makes stressful journeys much easier to cope with.

Lastly, whenever you see a report of "hundreds of passengers being delayed", remember it means thousands of passengers aren't being delayed.

Every day, millions of United passengers reach their destinations without hitch, thanks to the continual, behind-the-scenes work of people all over the world, working all hours to make your journey as smooth, comfortable and easy as possible.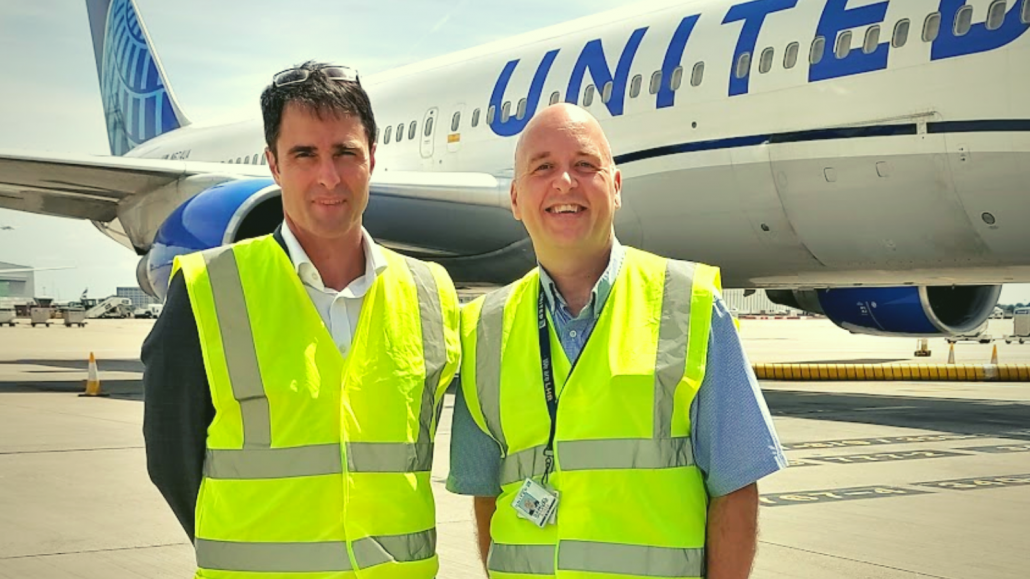 https://gtm.uk.com/wp-content/uploads/2022/06/Web-7.png
312
820
Dave
https://gtm.uk.com/wp-content/uploads/2022/06/Smarter-Better-Fairer-GTM-logo_02.png
Dave
2022-06-21 08:59:56
2022-06-21 08:59:58
Beating airport chaos