Virgin Atlantic has taken a big step forward in securing its future, by launching a court-backed process as part of a solvent recapitalisation of the airline and holiday business, with a "Restructuring Plan" that once approved and implemented, will keep Virgin Atlantic flying.
The Restructuring Plan is based on a five-year business plan, and with the support of shareholders Virgin Group and Delta, new private investors and existing creditors, it paves the way for the airline to rebuild its balance sheet and return to profitability from 2022.
The airline claims the recapitalisation will deliver a refinancing package worth c.£1.2bn over the next 18 months in addition to the self-help measures already taken, including cost savings of c.£280m per year and c.£880m re-phasing and financing of aircraft deliveries over the next five years.
Global aviation was one of the first industries impacted by the Covid-19 pandemic and will be one of the last to recover fully.
Virgin Atlantic took a number of actions to mitigate losses: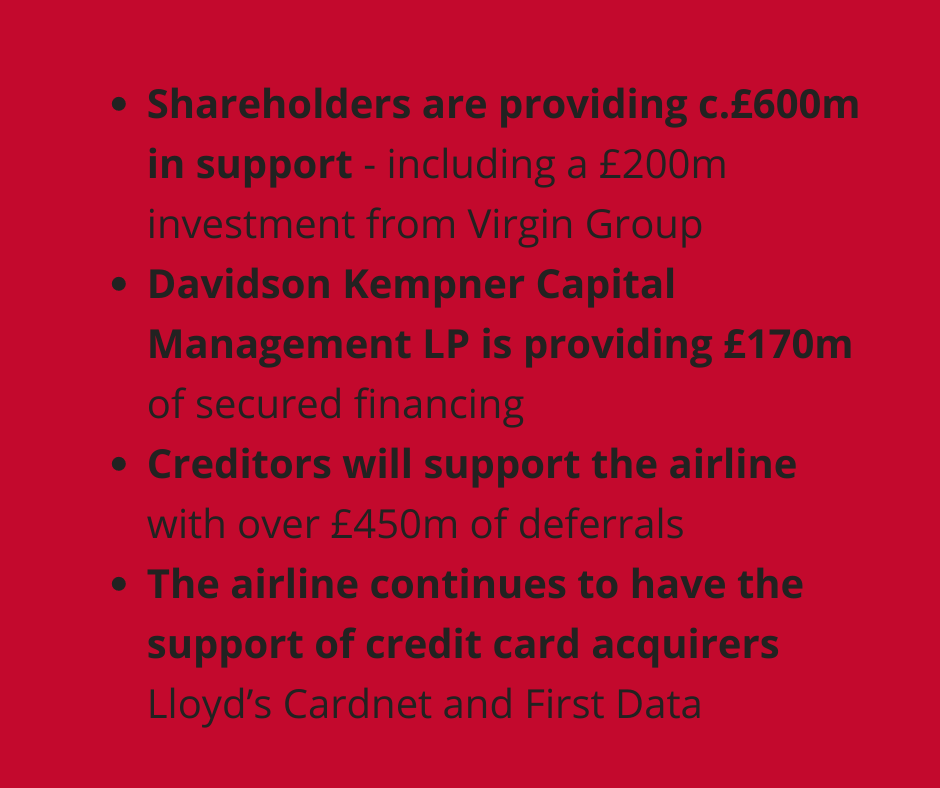 In March, the Leadership Team took voluntary pay cuts
Since April, more than 80% of the workforce has benefitted from the Government's Coronavirus Job Retention Scheme, supporting efforts to preserve cash and minimise costs. In Q2, flying fell by 98% and in the second half of 2020, capacity is expected to reduce by at least 60% compared to 2019, with pre-crisis levels of flying unlikely to return until 2023. With the suspension of passenger flying in April, the airline delivered an unparalleled network of cargo-only flying, operating more than 1400 cargo flights in April, May and June.
In May the decision was taken to close operations at London Gatwick and cut global staff numbers by c.400.
Having closed its London Gatwick base, while retaining a slot portfolio at the airport to protect opportunities for future growth, leisure flying is now consolidated at London Heathrow and Manchester.
By 2022, Virgin Atlantic will fly the same number of sectors as 2019 despite its smaller scale, demonstrating productivity and efficiency improvements.
The airline will operate a streamlined fleet of 37 twin engine aircraft following the retirement of seven 747s and four A332s by Q1 2022, with rescheduled delivery of outstanding A350s and A339s.

Shai Weiss, CEO, Virgin Atlantic commented:
Few could have predicted the scale of the Covid-19 crisis we have witnessed and undoubtedly, the last six months have been the toughest we have faced in our 36-year history. We have taken painful measures, but we have accomplished what many thought impossible. The solvent recapitalisation of Virgin Atlantic will ensure that we can continue to provide vital connectivity and competition to consumers and businesses in Britain and beyond. We greatly appreciate the support of our shareholders, creditors and new private investors and together, we will ensure that Virgin Atlantic can emerge a sustainably profitable airline, with a healthy balance sheet.



Paul Baker, Sales Director of Global Travel Management said:
The recapitalisation of Virgin Atlantic is very good news. Virgin Atlantic's routes offer great options for business travellers, with a network that includes the United States and South Africa. Restrictions are in place for these destinations, but, as soon as they are lifted and business travel can re-commence, it will be great to have Virgin Atlantic as a trusted, viable alternative.
If you're planning business travel to any destination on Virgin Atlantic's route network, contact your GTM Account Manager.
https://gtm.uk.com/wp-content/uploads/2020/07/Virgin-recapitalisation.png
312
820
Dave
https://gtm.uk.com/wp-content/uploads/2022/06/Smarter-Better-Fairer-GTM-logo_02.png
Dave
2020-07-16 17:01:32
2020-07-16 17:01:34
Recapitalisation of Virgin Atlantic