Etihad Airways, the flagship airline of the United Arab Emirates, has unveiled its exciting partnership with Bollywood superstar Katrina Kaif as its new brand ambassador.
This collaboration marks a significant milestone as Etihad reinforces its presence in the Indian market while reuniting with one of India's most beloved Bollywood icons.
Katrina Kaif, known for her global appeal and grace, perfectly embodies the shared commitment to excellence as she rejoins forces with Etihad. The announcement of her association with the airline will be brought to life through a captivating series of videos set to be featured across Etihad and Katrina's social media channels.
Expressing her enthusiasm about this partnership, Katrina Kaif stated,
I am thrilled to be back with Etihad Airways, a brand synonymous with world-class travel experiences.

The airline's commitment to excellence and its dedication to bringing people together resonate with my own values.

I am excited to be part of a team that aims to create thoughtful connections and memorable experiences.

I look forward to representing Etihad and being a part of their journey.
Amina Taher, Vice President of Brand, Marketing, and Sponsorship at Etihad Airways, highlighted the significance of this collaboration:
We are thrilled to welcome Katrina Kaif to the Etihad Airways family as our brand ambassador.

Our partnership with Katrina is far from ordinary; it embodies the spirit of innovation and sophistication our airline represents while celebrating our commitment to uniting cultures and communities.

With her remarkable journey and global recognition, we're not only showcasing Etihad's offerings but also fostering authentic connections that genuinely resonate with Indian travellers and celebrating our commitment to India.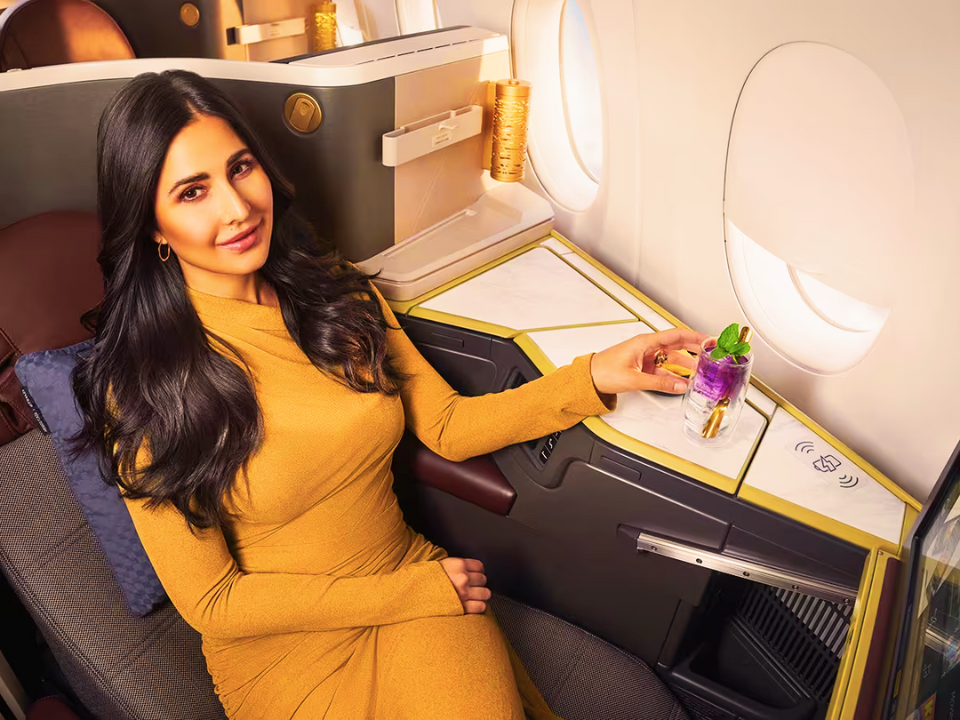 This new partnership builds on Katrina's previous collaboration with Etihad in 2010, where she was featured as a discerning traveller showcasing Etihad's travel experience.
Her prior partnership showcased her appreciation for the airline's commitment to comfort and top-notch service.
Returning to partner again, Katrina and Etihad are reinforcing Etihad's growing relationship with Indian communities, both domestically and in significant global markets such as the UAE, the United Kingdom, the United States and Canada.
As the brand ambassador for Etihad, Katrina will be prominently featured in a series of creative and engaging campaign videos that highlight the airline's unwavering commitment to unparalleled comfort, flawless service, and seamless global connectivity.
Her association with the airline bolsters its presence in the Indian market, where it currently serves eight Indian cities, further solidifying Etihad as the preferred choice for travellers and aligning seamlessly with the airline's strategy for sustained growth in India.
The debut video from this collaboration features Katrina Kaif aboard Etihad's newest A350 aircraft, offering a cinematic journey filled with emotions akin to a Bollywood film – featuring drama, love, and delightful surprises.
The film also showcases the exclusive Armani-Casa dining wear, luxurious bedding, and complimentary in-flight Wi-Fly service, beautifully encapsulating the very essence of Etihad's unwavering commitment to excellence. You can watch this captivating film on both Etihad and Katrina's social media channels now.
For further information about this exciting partnership and Etihad Airways' offerings, contact your Global Travel Account Manager.
---
https://gtm.uk.com/wp-content/uploads/2023/09/WEB-SWISS-grub-1.png
312
820
Dave
https://gtm.uk.com/wp-content/uploads/2022/06/Smarter-Better-Fairer-GTM-logo_02.png
Dave
2023-09-12 16:03:15
2023-09-12 19:16:17
Etihad Airways announces Bollywood star Katrina Kaif as brand ambassador