British Airways and Virgin Atlantic made history today, when their first flights of the day took part in a fully-synchronised joint take-off from London's Heathrow Airport.
British Airways Flight BA001 – a flight number previously reserved for Concorde – left Heathrow at 08:30 this morning, 8 November, in a first-ever synchronised take-off with Virgin Atlantic flight VS3.
The spectacular double take-off were the airlines' first flights to the United States since the restrictions on UK and EU passengers were first imposed in March 2020.
The first British Airways flight to the United States since the lifting on that country's restrictions used sustainable aviation fuel.
The British Airways A350 flight was directly powered by a 35% blend of sustainable aviation fuel (SAF) provided by bp and made from used cooking oil. The airline claims it is believed to be the first commercial transatlantic flight ever to be operated with such a significant level of the fuel blended with traditional jet fuel.
In September, British Airways announced a collaboration with bp to source sustainable aviation fuel in
respect of all flights between London, Glasgow and Edinburgh during the UK COP26 conference.
British Airways' parent company International Airlines Group recently committed to operating 10% of
its flights using SAF by 2030.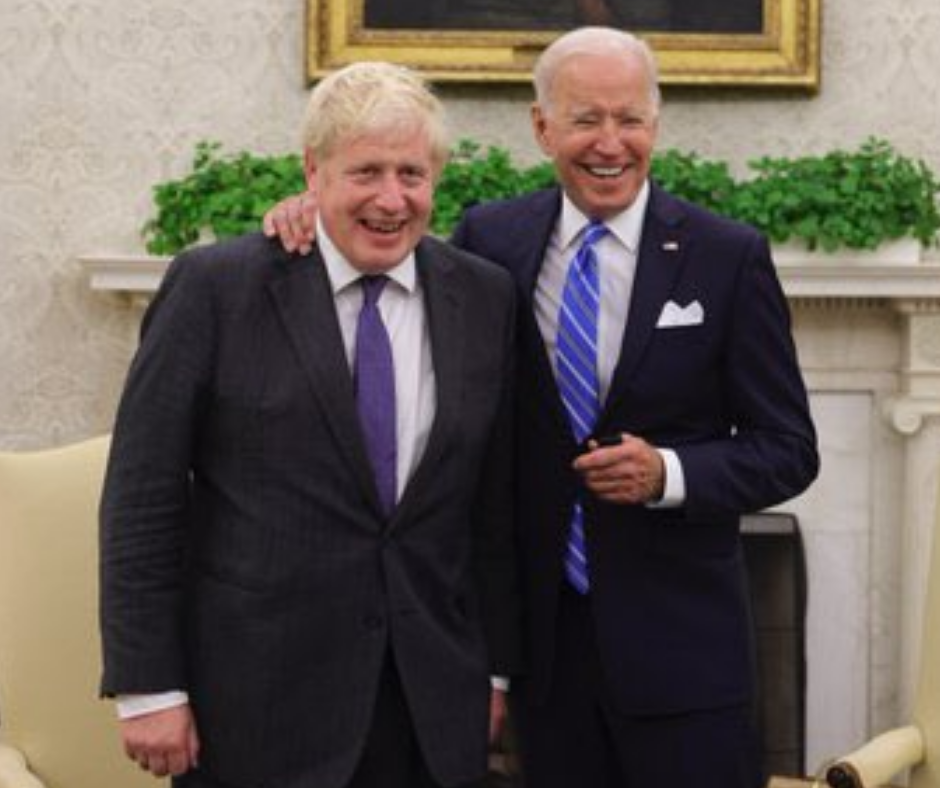 The lifting of US restrictions after more than 600 days means that fully vaccinated Britons are now able to travel freely between the two countries – something that has not happened since 16 March 2020.
The changes have enabled British Airways to re-start direct services to 17 US destinations. The airline is set to extend its services to 23 US airports this winter, with up to 246 flights a week. Flights to New York will increase from five to eight per day in December. There will also be double-daily services to Boston, Chicago, Los Angeles, San Francisco, Washington, Dallas, Miami and Toronto, as well as daily services to Philadelphia, Phoenix, Seattle, Atlanta, Denver, Houston and Vancouver.
UK Ambassador to the United States, Dame Karen Pierce DCMG, said:
Today is an incredibly exciting and meaningful day for the UK-US relationship. We can all once again travel to each other's countries to visit families, take holidays, and conduct transatlantic business. I am absolutely thrilled that safe and sustainable travel can fully resume between the UK and the United States.
Shai Weiss, Virgin Atlantic Chief Executive said:

Today is a time for celebration, not rivalry.  Together with British Airways we are delighted to mark today's important milestone, which finally allows consumers and businesses to book travel with confidence.  The US has been our heartland for more than 37 years and we are simply not Virgin without the Atlantic.  We've been steadily ramping up flying to destinations including Boston, New York, Orlando, Los Angeles and San Francisco, and we can't wait to fly our customers safely to their favourite US cities to reconnect with loved ones and colleagues.
As the UK forges its recovery from the pandemic, the reopening of the transatlantic corridor and the lifting of Presidential Order 212F acknowledges the great progress both nations have made in rolling out successful vaccine programmes. The UK will now be able to strengthen ties with our most important economic partner, the US, through boosting trade and tourism. We are thankful to Prime Minister Johnson and the UK Government, the Biden administration and our industry partners for their support in removing these barriers and allowing free travel between our countries to resume.
Secretary of State, Grant Shapps said
Thanks to the work of industry and the US-UK Experts Working Group, these vitally important flight routes will help boost the economy, protect and create British jobs and through the work of the Jet Zero Council help to build back greener.

https://gtm.uk.com/wp-content/uploads/2021/11/COP26-Challenge-2.png
312
820
Dave
https://gtm.uk.com/wp-content/uploads/2022/06/Smarter-Better-Fairer-GTM-logo_02.png
Dave
2021-11-08 12:57:37
2021-11-08 12:57:41
Transatlantic take-off, synchronised