UPDATE: 11:25 15 January 2019
Following an intervention by Cabinet ministers Grant Shapps (Transport Secretary), Andrea Leadsom (Business Secretary) and Sajid Javid (Chancellor), the Government has confirmed a package of measures aimed at ensuring the continued service of all Flybe routes and flights.
As a result of this deal, Global Travel Management can confirm that all customers will continue to be able to book Flybe services, either online (using GTM Online) or offline (via GTM's teams of travel consultants).
All usual forms of payment are accepted for Flybe flights booked through Global Travel Management. And, of course, all trips will be managed and associated services such as additional flights, hotel bookings, taxis, car parking, rail journeys, etc, continue to be provided.
Chancellor of the Exchequer Sajid Javid said:
I welcome Flybe's confirmation that they will continue to operate as normal, safeguarding jobs in UK and ensuring flights continue to serve communities across the whole of the UK. The reviews we are announcing today will help level up our economy. They will ensure that regional connections not only continue but flourish in the years to come – so that every nation and region can fulfil its potential.
Business Secretary Andrea Leadsom said:
I am delighted that we have managed to reach an agreement with Flybe shareholders to keep the company in operation, ensuring that regions across the country can continue to be connected. My department and others across government have worked tirelessly in an incredibly short timeframe. This will be welcome news for Flybe, their customers and dedicated employees, as well as those in the supply chain. We will continue to work with Flybe and regional operators to find a sustainable long term future.
Transport Secretary Grant Shapps said:
I am delighted that we have been able to work closely with Flybe to ensure Europe's largest regional airline is able to continue providing their valued services, connecting communities across the UK. The Department for Transport will undertake an urgent review into how we can level up the country by strengthening regional connectivity and will look at all the options that we have to make sure our airports can continue to play an important role in driving economic growth, creating jobs and greening aviation, across the country.
Mark Anderson, CEO of Flybe said:
Flybe is made up of an incredible team of people, serving millions of loyal customers who rely on the vital regional connectivity that we provide. This is a positive outcome for the UK and will allow us to focus on delivering for our customers and planning for the future.
Lucien Farrell, Chairman Connect Airways said:
We are very encouraged with recent developments, especially the Government's recognition of the importance of Flybe to communities and businesses across the UK and the desire to strengthen regional connectivity. As a result, the shareholder consortium has committed to keep Flybe flying with additional funding alongside Government initiatives.
If you have any questions with regards to booking on Flybe, please contact your GTM Account Manager.
---
UPDATE: 10:35 14 January 2019
Flybe continues to operate all of its services, domestically and internationally. Flights can be booked on all routes, through Global Travel Management. However, passengers may choose to pay for their flights using credit cards, in order to benefit from the provisions of section 75 of the Consumer Credit Act should the airline fail.
The Government is holding meetings today in which a package of measures will be discussed, designed to help the airline.
The Prime Minister has confirmed:

We see the importance of Flybe in delivering connectivity across the whole of the United Kingdom.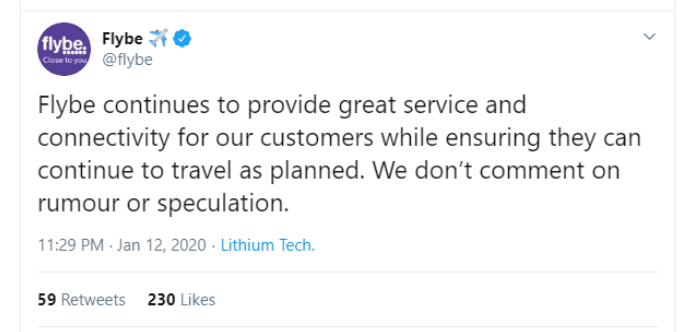 ---
Original article, posted 13 January:
Due to the current uncertainty of Flybe's future viability as a company, GTM recommends that, with immediate effect, customers should only purchase their tickets using a credit card which offers protection from airline failures.
Should Flybe cease operations – and we have no inside knowledge that this will be the case – any passenger whose ticket is purchased by cash or invoice, is unlikely to see a full refund of their ticket (as they will become an unsecured creditor). Hence, our recommendation that with immediate effect, tickets are purchased using a valid credit card.
We will, of course, endeavour to keep all customers updated as soon as we know more.
https://gtm.uk.com/wp-content/uploads/2020/01/GTM-releases-Flybe-advice.png
312
820
Natalie
https://gtm.uk.com/wp-content/uploads/2022/06/Smarter-Better-Fairer-GTM-logo_02.png
Natalie
2020-01-13 13:27:19
2020-01-15 13:58:01
Important advice for Flybe passengers