His Royal Highness The Prince of Wales has toured British Airways' engineering base in Cardiff, seeing first-hand the changes, large and small, which the airline is making as it works towards more sustainable flying.
In front of more than 400 BA staff, His Royal Highness was shown the nose-to-tail focus on sustainability from the heavy-weight investments in new fuel-efficient aircraft, to the smallest detail of using a light-weight solder in aircraft repairs, bringing down the carbon footprint of each journey.
British Airways is forensically assessing its entire operation to find the little changes which add up to a big change of direction.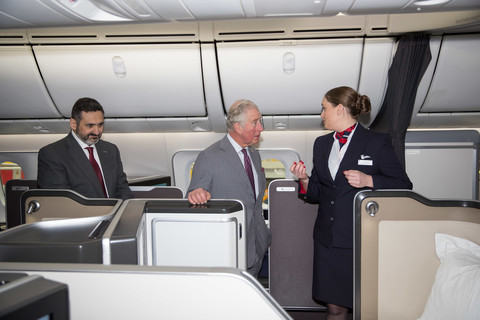 Each First-Class duvet is now made from 19 recycled plastic bottles.
Replacing seats on short-haul aircraft with new lighter weight versions saves 9,100 tonnes of CO2 per year. That's equivalent to more than 350 return flights from London to Berlin.
British Airways now taxis to the runway using a single engine taxi on short haul flights, saving 3,700 tonnes of CO2 per year, equivalent to more than 100 return flights from London to Madrid.
The airline's lighter cabin trolleys save 5,000 tonnes of CO2 per year; that's a saving equivalent to more than 300 return flights from London to Paris.
BA now retract landing lights earlier on our A320 fleet, burning less fuel and saving 8,000 tonnes of CO2 per year; a saving equivalent to 150 return flights from London to Athens.
Plastic swizzle sticks have been replaced with bamboo versions, saving 45 tonnes of plastic per year.
The plastic wraps on bedding have been replaced by paper bands. That adds up to more than 19 million pieces of plastic which have been removed.
British Airways' Chairman and Chief Executive, Alex Cruz, who led the tour, said:
It has been an honour to showcase our work in this area to His Royal Highness today. Every decision we make at British Airways now starts with a simple question: what does that mean for our sustainability aspiration? We're now offsetting carbon emissions on all our flights within the UK, and were the first airline group to commit to achieving net zero carbon emissions by 2050.
We've got a lot of work to do, but keeping an eye on the detail as well as the bigger picture is the only way to get there.
Louise Evans, Director of Communications & Corporate Responsibility said:
From new, quieter and more fuel efficient aircraft to sustainable swizzle sticks that eliminate the use of single use plastic, we're carrying out a huge transformation of the way we fly.
His Royal Highness opened this engineering base 26 years ago, and we were delighted to welcome him back to our engineering base here in Cardiff so he can see for himself the steps we are taking to a sustainable future.
Contact your GTM Account Manager the next time you plan to fly on British Airways.
https://gtm.uk.com/wp-content/uploads/2020/02/HRH-The-Prince-of-Wales-opens-BA-Maintenance-Centre.png
312
820
Dave
https://gtm.uk.com/wp-content/uploads/2022/06/Smarter-Better-Fairer-GTM-logo_02.png
Dave
2020-02-25 09:29:10
2020-02-25 09:29:13
HRH The Prince of Wales sees how British Airways is investing in sustainability