There's no doubt that every aspect of the world's economy was hit hard in 2020. But 2021 will see the fightback against the pandemic, driven by the mass rollout of vaccines. And, as the world begins to move towards a post-pandemic phase, businesses everywhere will start to plan how to face the task ahead: rebuilding the global economy.
Across the United Kingdom, companies are starting to plan how to restart, recover and regain lost ground. In short, we all face the challenge of how to build sustainable growth and, by doing so, pay back the cost of managing the impact of the virus.
Organisations will be deciding when, where and how frequently they need to travel to meet their growth objectives. So we have put together a document that advises on what they should do in order to meet their travel requirements safely, efficiently and at the best cost.
We have covered everything you should consider when you're making national or international travel. We have included resources you can use to get more information. And we have even included details of how to get hold of hygiene packs of masks, gloves, wipes and sanitiser, with a special 20% discount.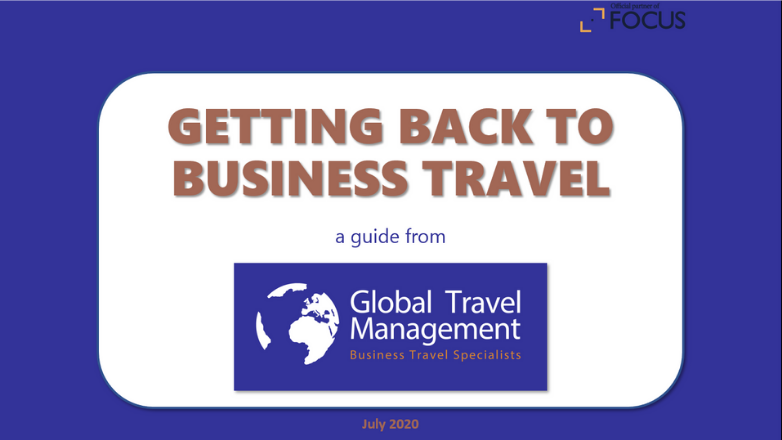 The document is free to download, to share with colleagues and to give to partners and suppliers. You can download it via the link on this page and you are free to distribute it by email, share it as a presentation or print it, as many times as you need. All we would ask is that you check back here from time to time to ensure you are using the most up-to-date version of the document. The current version is July 2020 and you can see this on the first page.
We have split the document into two parts.
The first part provides information if you – or your business – intends to book business travel. It covers advice on travel policies, duty of care, pre-trip planning, booking trips and hotels and an itemised list of what your colleagues should take with them.
The second part is for those people taking business trips. It gives advice on what you should do before you travel, what to do at the airport or rail station, details of what to do on board, and what to do when you arrive back in the UK. It also provides useful advice on how hotel stays are different now: the checking-in process, advice on hotel housekeeping and room service, express hotel services, luggage, advice on sanitising items in-room and what guests should do if they fall ill.
You may decide to keep the document as a whole, or divide it into parts that are most relevant to colleagues and share it with them.
The document was produced with the help of the Focus Travel Partnership. You can find out more about the Focus Travel Partnership, what it does and how clients of Focus members benefit here.
Please download the document using the download button, below.
https://gtm.uk.com/wp-content/uploads/2020/07/Getting-Back-to-Business-Travel-2.png
312
820
Dave
https://gtm.uk.com/wp-content/uploads/2022/06/Smarter-Better-Fairer-GTM-logo_02.png
Dave
2021-01-01 08:00:37
2021-02-01 09:35:57
Getting Back to Business Travel