The world's best airlines – according to on-time performance – have been revealed.
For the first time in the 14-year history of Cirium's On-Time Performance, a Latin American airline has achieved the remarkable feat of winning the global mainline award.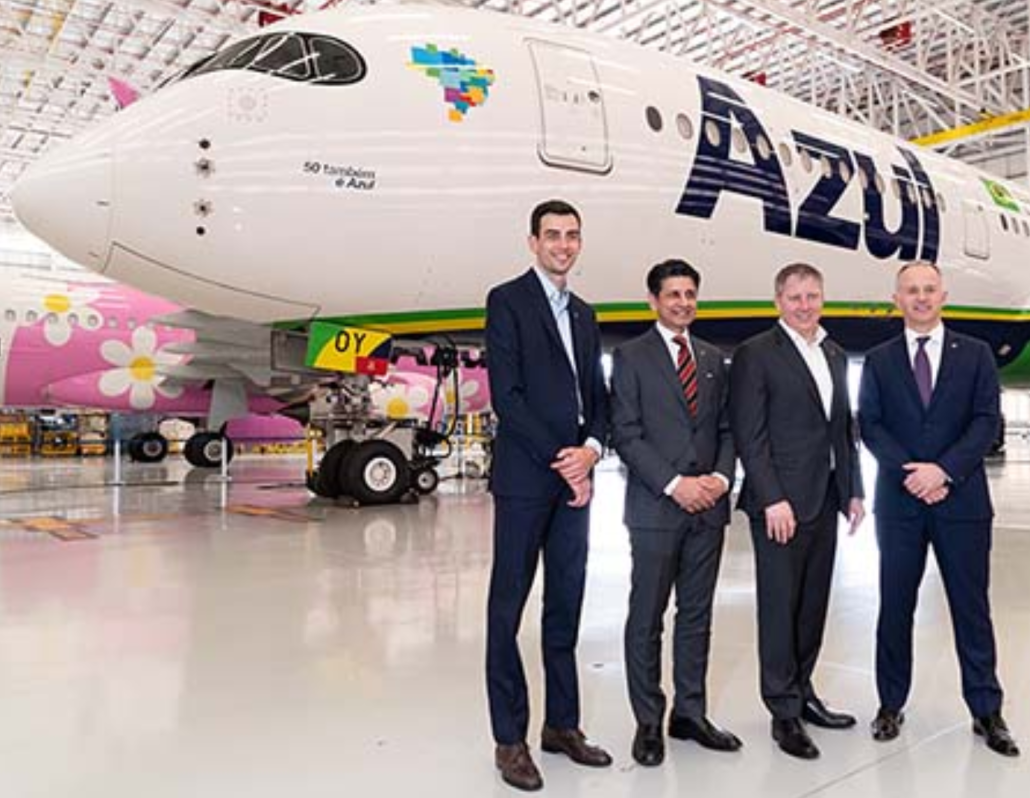 Azul Airlines has received the prestigious title of the most punctual airline globally and in Latin America, securing the top position in both the Mainline and Network classifications.
Maintaining an exceptional track record, the Brazilian carrier demonstrated an impressive punctuality rate of 88.93% within the Global Mainline Category. Similarly, it achieved remarkable punctuality rates of 88.93% within the Latin America Mainline category and 88.37% in the Network category.
To celebrate their remarkable accomplishments, an award ceremony was held on 1 March at Sao Paulo's Viracopos Airport.
During the ceremony, Jeremy Bowen, the CEO of Cirium, had the honor of presenting Azul Airlines' awards to John Rodgerson, the CEO of Azul Airlines, as well as a group of eight dedicated frontline staff members who exemplify Azul's commitment to on-time performance. Mike Malik, the Chief Marketing Officer of Cirium, and Lydia Webb, the Marketing Director of Cirium, were also present to witness the occasion. Additionally, the event was graced by the presence of government officials from Brazil and members of the Brazilian press. 
Jeremy Bowen said
Congratulations to Azul for its excellent performance in Cirium's 2022 On-Time Performance Review, as well as for its success in Latin America, getting its passengers to their destinations on time as the sector revived during 2022

At Cirium we have a team that is passionate about airline operations. Many have decades of airline experience; we understand the complexity and challenge of getting people to their destinations safely and on-time.  Ramping back up operations so quickly after an enforced slowdown is not easy to do and the top-ranked airlines in Cirium's 2022 On-Time Performance Review deserve their recognition for this well-orchestrated achievement.
Azul's award comes weeks after Europe's most on-time airline was announced by Cirium.
Iberia has been named Europe's most punctual Mainline and Network airline.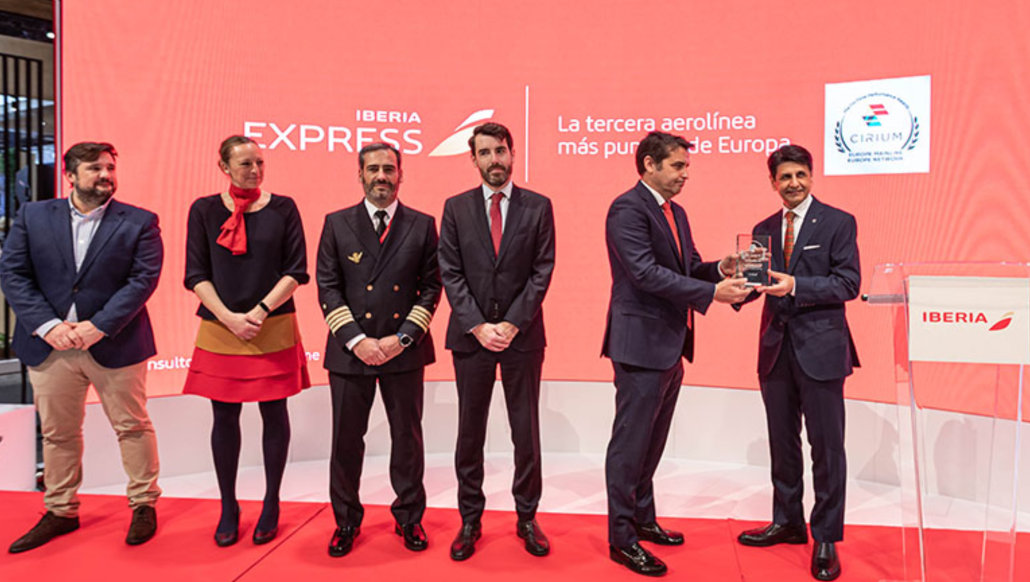 Iberia Express has also received an award alongside its parent company, ranking third in the Europe Mainline airline category. An award ceremony took place at the Fitur 2023 – International Tourism Trade Fair in Madrid, Spain, to commemorate their outstanding achievements.
Mike Malik, Cirium's Chief Marketing Officer, presented Iberia's award to Javier Sánchez-Prieto, Chief Executive Officer of Iberia, and the Iberia Express award was presented to Carlos Gómez, Chief Executive Officer of Iberia Express. Rafael Jimenez Hoyos, Head of Production at Iberia, was also in attendance.
Malik said
Operational excellence is in Iberia's DNA, but it is not limited to them, and is shared with Iberia Express.  Iberia Express is another high performer who was frequently among the best of the best in low-cost carriers finished strong in 2022 taking the number three most on-time European mainline airlines. The responsibility for this excellent performance is the hard work of every employee at Iberia and Iberia Express.
According to Cirium's 2022 On-Time Performance review, Iberia demonstrated an impressive punctuality rate of 85.87% within the European Mainline category and 86.60% for the Europe Network.
In the same vein, Iberia Express achieved an on-time performance score of 83.80% for the Europe Mainline category.
Expressing gratitude to the representatives of the 17,000 Iberia employees present Javier Sánchez-Prieto, the CEO of Iberia acknowledged and appreciated their contributions in the airline's day-to-day operations, particularly in navigating the challenges faced by the aviation industry in recent times.
He said,
Punctuality is the most evident symbol of the cultural change in Iberia and the good labor climate that we have maintained over the last eight years. Together with the good performance of Spanish airports, the commitment of our employees has been key to reaching this milestone in a particularly difficult year in the European and US airports where we operate. My sincere thanks to all Iberia employees for their enormous involvement in this great achievement and also thanks to Cirium for transforming and helping the aviation community monitor, manage and meet our goals.



Elsewhere, the Middle East and Africa award was announced in London this month.
Oman Air has been awarded the title of the most punctual mainline airline in the Middle East and Africa region.
With a remarkable achievement, Oman Air attained an exceptional punctuality rate of 91.38% within the Mainline Category of the Middle East and Africa region. This outstanding performance was accomplished as the airline expanded its operations to cater to the increased demand for the 2022 World Cup traffic.
To celebrate their remarkable achievement, an award presentation ceremony was held on 30 April at the headquarters of Oman Air in Muscat, Oman.
In Japan, the airlines and airports continue to demonstrate exceptional punctuality, ensuring passengers reach their arrival gates on time.
Cirium's CEO, Jeremy Bowen, accompanied by Mieko Kosaka, Cirium's Sales Manager, extended their congratulations to airline and airport officials for their outstanding accomplishments and presented them with the On-Time Performance awards.
All Nippon Airways (ANA), the prominent Japanese airline, has been named the most punctual airline in both the Global and Asia Pacific regions within the Network category. ANA achieved an impressive punctuality rate of 89.79% in the Global Network Category and maintained exceptional punctuality within the Asia Pacific Network category. The award ceremony took place on 29 March at Tokyo's Haneda Airport, where Mr. Shinichi Inoue, Representative Director, President, and CEO of ANA, Mr. Katsuo Yokoyama, Member of the Board of Directors and Senior Executive Vice President, Mr. Yoichi Katsuoka, Executive Vice President (President of ANA WINGS CO., LTD.), and Mr. Hideki Mineguchi, President & Chief Executive Officer, received the awards.
StarFlyer Airlines, recognized as the most punctual low-cost carrier, achieved an extraordinary punctuality rate of 95.23%. A ceremony was held on 28 March at Kitakyushu Airport in Japan to celebrate StarFlyer's remarkable achievement and acknowledge its global excellence in On-Time Performance in 2022. The award was received by Mr. Osamu Machida, President and CEO of StarFlyer.
Additionally, Japanese airports secured top positions in all categories (Global, Large, Medium, and Small) for their exceptional punctuality performance. Award ceremonies were conducted during the final week of March at each respective airport location, commemorating their outstanding accomplishments.

https://gtm.uk.com/wp-content/uploads/2023/05/WEB-SAA-2.png
312
820
Dave
https://gtm.uk.com/wp-content/uploads/2022/06/Smarter-Better-Fairer-GTM-logo_02.png
Dave
2023-05-22 14:02:33
2023-05-22 14:02:39
Which airlines are best at getting you there on time?